Σταμάτα… και κοίτα ένα λουλούδι!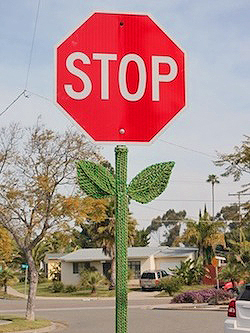 Τον περασμένο Μάρτιο, στο San Diego ( USA ), μαζεύτηκε μια παρέα ανθρώπων που αγαπούν το πλέξιμο, κι αποφάσισαν να μετατρέψουν όλες τις πινακίδες stop, της περιοχής τους, σε λουλούδια ! Έπλεξαν γύρω στα 100 stop-ο-λούλουδα, προκείμενου, να κάνουν τους οδηγούς να χαμογελούν, πηγαίνοντας στη δουλειά τους.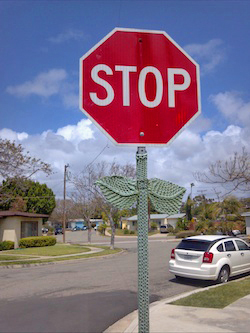 Βέβαια, οι αρχές της πόλης, τους βρήκαν και τους ειδοποίησαν ότι η συγκεκριμένη ενέργεια απαγορεύεται και πρέπει να τα απομακρύνουν. Έτσι έχουν ξεκινήσει εκστρατεία διαμαρτυρίας save the stop flowers, μαζεύοντας υπογραφές.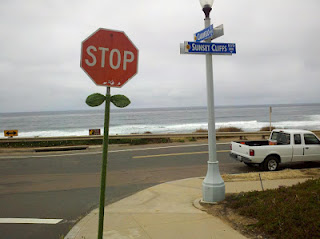 Διαβάστε περισσότερα στο stopsignflower.com, και στο myknottyhabit.blogspot , όπου θα βρείτε και το σχέδιο που δημοσιεύουν προκειμένου να το φτιάξει κανείς, αν θέλει.
Keep on bombing the streets with yarn !
🙂